Growth Solution for SMEs
in a Cost-effective Way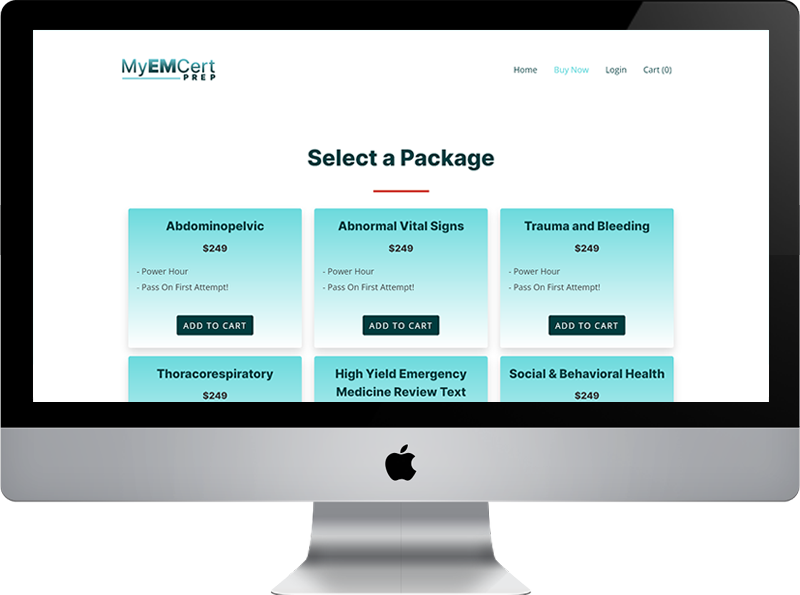 The Client:
Company Name:
MyEMCertPrep
Website:
www.myemcertprep.com
Location:
Chicago, IL
Product:
Online Tutorial and Lectures for MyEMCert Emergency Medicine Exam
Kolweb Services:
Full design, development and integration of website with custom shopping cart and subscription management
Soft Launch Date:
November 11, 2019
Official Launch Date:
February, 2020
The Backstory:
MyEMCertPrep had the first class course and tutorial for the MyEMCert exam and they needed a perfect solution to reach out to customers.
The Solution:
MyEMCertPrep leveraged Kolweb's services to provide and end-to-end solution that would give the penultimate user experience for their customers. Kolweb implemented the advanced subscription level shopping cart management service using PHP, HTML5 and Articulate 360 to create a user-friendly website with high-tech online lectures.

The Takeaway:
The
Kolweb solution
gave MyEMCertPrep a 100% online experience which drastically reduced their overhead for customer management, ordering and accounting.

Articulate 360
Drastic reduction in lecture recording and preparation time
Responsive online lecture that supports all devices
Powerful platform for scaling up the business
PHP7
The perfect tool for any E-commerce website
Powerful and supported in all types of observers
Easy integration with third-party APIs like payment gateways